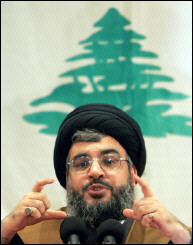 Sderot is not the only Israeli city under rocket threat. According to the latest wire reports, Israel says Hezbollah has rearmed with longer-ranged weapons and now can hit Tel Aviv. Lebanese sources claim that the new rocketry hoard is to deter Israeli aggression, rather than to threaten the Jewish state, but Hassan Nasrullah's speeches belie this.


Israel alleges that Hezbollah militants in Lebanon have rearmed with new long-range rockets capable of hitting Tel Aviv and tripled their arsenal of land-to-sea missiles since last summer's war, the United Nations secretary-general said in a report Wednesday.

Ban Ki-Moon said the reports of Hezbollah's rearming are a cause of great concern for the stability of Lebanon.

"Israel has stated that the nature and number of weapons in Hezbollah's control constitutes a strategic threat to its security and the safety of its citizens," he said.

Israel claims Hezbollah's long-range rocket force is stationed in areas north of the Litani River and that most of the new rockets, including hundreds of Zilzal and Fajr generation rockets, have a range of 155 miles, "enabling them to reach Tel Aviv and points further south," the report said.

"Israel also claims that Hezbollah has tripled its shore-to-sea C-802 missiles and have established an air defense unit armed with ground-to-air missiles," Ban said.

While Israel has not provided the United Nations with specific intelligence due to the sensitivity of the sources, Ban said several speeches by Hezbollah's leader Hassan Nasrallah in the past few months "seem to confirm these Israeli claims."

Senior Hezbollah officials have said Nasrallah's comments were made to serve as a deterrent to aggression rather than as threats to Israel, Ban said.

"Reports of rearming are a cause of great concern which pose serious challenges for the sovereignty, stability and independence of Lebanon," he added.

Ban said Israel's contention that Hezbollah has rearmed to a level higher than before last year's war — and that arms continue to be smuggled across the Lebanon-Syria border despite Syrian denials — raise serious concerns about implementation of the U.N. resolution that ended the 34-day war between Israel and Hezbollah.

Under the Security Council resolution, weapons transfers to the Iranian- and Syrian-backed militants are banned. Ban warned during a visit to Lebanon in March that arms smuggling threatened the Aug. 14, 2006 cease-fire. The resolution calls for the disarming of all militias.

Ban said there has been no progress the disarmament of Hezbollah and other militias, although he sees this as essential to fully restoring government authority throughout the country. The current political crisis in Lebanon has hindered efforts to implement the resolution.