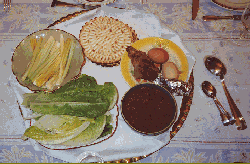 Mimouna is a Jewish-Moroccan springtime celebration for indulging in the season's first leavened bread: in our case, the thinnest Mufleta crepes imaginable, cooked on the reverse side of a heated tagine dish and then dipped in honey.
Arcane symbols, with a repetition of the number five, promise fecundity and fortune. Scattered grains, nuts, flat beans, crisp lettuce leaves, gold coins and filling-tingling honey were laid out. Milk, flour and white candles stand for purity; dates and jams for a sweet year; bean pods for fertility. It's a wonderful way to get your fill of sweet treats after a week of abstention during Passover.

This possibly pagan holiday is now embraced by almost all Israelis, especially politicians. (The mayor and the vice premier showed up at Jerusalem's convention centre, although the pols usually come to gab and grab sweeties at city park picnics or beach bbqs.) My neighbour upstairs hosted an extravagant Mimouna party for local artists of North-African origin, and it was one of the best evenings of the year. Wearing a kaftan, sprawled on cushions, there are no worries of a tight waistline pinching after so much indulgence. I am told that in Morocco, matchmakers always worked overtime during this festival, and this party seemed awash in undercurrents of sexual tension.

Izzy admits to being an etymology buff. Suggestions that "Mimouna" is derived from the Hebrew word emunah, or faith, seem farfetched. A Moroccan accent doesn't mangle every utterance so much. Others say that the holiday refers to word mammon, which means riches or prosperity. Religious sticklers say the festival is probably derived from the Rabbi Maimon. Maimonides' father, who had lived in Fez, where Mimouna most likely originated, is said to have died on the day of this festival. But my favorite explanation is that the sweet table is laid out this way to appease the she-devil wife of Baal, as one history prof described in Ha'aretz newspaper article.

The arrival of Mimoun confirms that Spring is in the air. It's so obvious that the season has changed. Delicious fragrances waft in on the breeze, pollen makes us all sneeze, while almond and olive trees are in full blossom, and so are the ubiquitous Judas trees with branches groaning with magnificent magenta flowers. Originally from Judea, the tree's name was altered after Judas Iscariot, the betrayer of Jesus, was found hanging from one, legend has it. With all those festive blossoms,some even coming right out of the knobbily old trunks, it's hard to imagine this as a likely suicide tree.