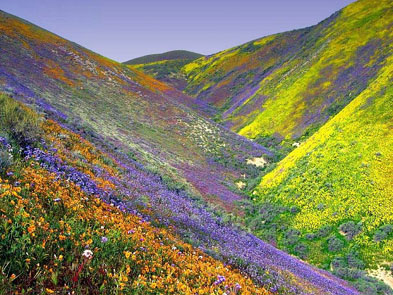 Birdsong, blossoms and sunbeams -- spring definitely has sprung in Israel. Fields of wildflowers --red anemones, wild mustard and blue field iris --bloom beyond Jerusalem's Peace Forest and scent the fresh breezes. Alas, there's not much love in the air yet. Smiles are scarce in a place where rancor and mistrust rule. Blood still is the overriding odor, at least subliminally.

Down in the dunes of Holon, south of Tel Aviv, the locals are reeling after a hot-headed guy was murdered over a parking spot dispute

"Today people murder each other over anything - a dog, a woman, so what's so surprising that this happened?," one mother told a reporter.
After a brief weekend lull, the violence has ramped up again. Not a big surprise. A Qassam rocket struck Ashkelon yesterday, shortly after the departure of the Prime Minister Ehud Olmert, and the IDF forces killed five Palestinian gunmen in the West Bank and arrested 30 more in Nablus.
Edginess is almost palpable. For days, local police in Jerusalem have refused to release the body of Abu Ala Dheim, the gunman killer who killed eight teens at Mercaz Harav Yeshiva and wounded 10 more. Authorities fear that if more than 5 family members attend his funeral, it may erupt into a media feeding frenzy or a literal bloodbath. They require burial by night with no martyr's fanfare. A fansite posted on Facebook has drawn condemnation for praising the horrific slaying as "an heroic act" across graphic photos of the dead students from the Zionist seminary.
According to television news reports,some
yeshiva students
have threatened to take revenge for the school shooting spree by attacking a senior Palestinian official at the al Aqsa Mosque, the volatile sacred site which Jews call the Temple Mount. An attack at this mosque could prompt a outbreak of violence across Israel and the Palestinian territories. Israeli police say they have prepared for the possibility of vengeance, but so far there have been no arrests. Demands for 100 new houses to be erected in settlements for each murdered student are frequently heard;
expansion
in the settlement was officially announced, much to the scorn of peacemaker Condi Rice.
So the next thing on the agenda is the arrival of America's Darth Vader... America's Vice President Dick Cheney is on the way to
"prod for peace"
in the Holy Land. Republican presidential candidate John McCain
may show up
as well, we are told, to further establish his security credentials while he woos Jewish voters.
Israelity bites