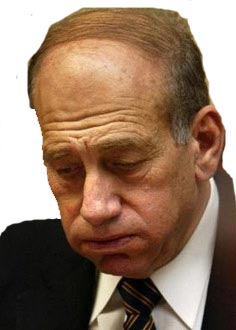 Click below for the latest interactive current affairs roleplay from playthenewsgame.com. The game showcases how the Israeli Prime Minister may approach his fifth corruption scandal, the day after the Defense Minister Ehud Barak threatened to pull out of the coalition and bring down the government unless the PM resigns. (This of course would derail any peace process.) But for now, Olmert seems defiant and determined to hold onto power. Cross-examination will not take place until July, after all. But the testimony of the New York millionaire Morris Talansky is explicit: envelopes stuffed with $150,000 cash. Outstanding loans. The cigars and big fountain pens that Olmert tended to blow his cash on are obvious phallic symbols, noted at least one of Jerusalem's certified geniuses. And going down in a submarine as Uncle Morris spilled the secrets surely is open to Freudian interpretation too. Murky waters ahead? Anyone need a periscope ? Watch this space. Many think that the "Prince of the Likud" will wriggle free again. Others point out that if you change one letter of the name Talansky, you get the Hebrew word for Hangman.
Bring it on.

Sleaze and scandal in Israeli politics

* Omri Sharon, son of ex-prime minister Ariel Sharon, began a seven-month prison term in February 2008 after conviction on campaign funding violations. His father is mentioned in the inquiries but has not been charged.

* Finance minister, Avraham Hirchson, resigned in July 2007 under suspicion of embezzling millions from a union he used to run.

* Israel's President, Moshe Katsav, forced to resign in June 2007 amid rape and sexual harassment charges.

* Olmert ally, Haim Ramon, convicted in March 2007 of forcibly kissing a female soldier. After a light sentence, Ramon returns to Olmert's cabinet as Vice Premier.

* President Ezer Weizman is forced to resign in 2000 under suspicion of accepting money from a businessman.

* Prime Minister Ehud Barak and aides suspected in 2000 of campaign finance irregularities. No charges are filed.

* Decorated general Yitzhak Mordechai resigns from cabinet in 2000 after being charged with sexually assaulting female workers. He is convicted and given suspended sentence.

* Prime Minister Benjamin Netanyahu suspected in 1997 of engineering appointment of attorney general in exchange for support from the Shas party, but is not charged.

* Prime Minister Yitzhak Rabin resigns in 1977 before an election in which his wife is found to have an illegal foreign currency account in the US.